On April 14, 2020, a video was exposed online in which Guangzhou Evergrande player Yu Hanchao openly altered the vehicle license plate on the street.
2020年4月14日,视频在网上曝光,广州恒大球员于汉超在大街上公开更改了车牌。
Once the incident was exposed, it immediately attracted the attention of the Guangzhou traffic police. Soon after, Yu Hanchao was taken to Tianhe Traffic Police Brigade for investigation for violating the traffic safety law.
事件一经曝光,立即引起广州交警的注意。不久,于汉超因违反交通安全法被带到天河交警大队进行调查。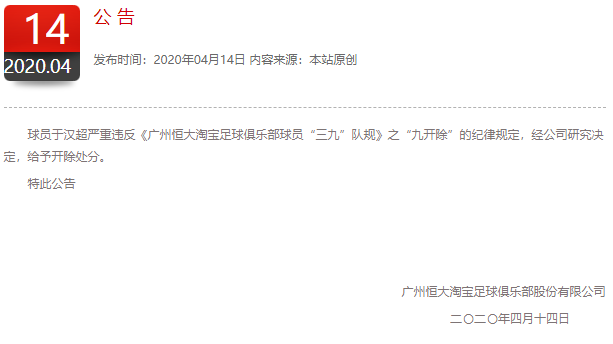 Picture from Guangzhou Evergrande official website
图片来自广州恒大官方网站
For Yu Hanchao, this incident not only meant a fine of 5,000 yuan, 15 days of administrative detention, and 12 points for a driver's license, but also put his original smooth career into crisis. On the evening of April 14, 2020, Guangzhou Evergrande Football Club officially announced that the player Yu Hanchao seriously violated the "Nine Expulsion" disciplinary regulations of the "Guangzhou Evergrande Taobao Football Club Players "Three Nine" Team Rules", which was determined after the company's research. , To be expelled.
对于于汉超来说,这一事件不仅意味着要处以5000元的罚款,15天的行政拘留和12个驾照的积分,而且还使他本来就顺利的职业陷入危机。 2020年4月14日晚,广州恒大足球俱乐部正式宣布,球员于汉超严重违反了《广州恒大淘宝足球俱乐部球员"三九"团队规则》的"九开除"纪律规定。公司的研究。 ,被开除。
In addition to Yu Hanchao, many players in football history have been expelled. The author will list five representative people and talk to you about the stories behind these expulsions.
除了余汉超,足球历史上的许多球员也被开除。作者将列出五个代表性人物,并与您讨论这些驱逐背后的故事。
In the summer of 2002, football became a common topic for all mankind. People are fascinated by the fantastic performance of Brazil's "3R combination", surprised at the defeat of the defending champion France team from the bottom of the group, and angry at the injustices encountered by Italy in the 1/8 finals.
在2002年夏天,足球成为全人类的共同话题。人们对巴西" 3R组合"的出色表现着迷,对卫冕冠军法国队从小组末段的失败感到惊讶,并对意大利在1/8决赛中遇到的不公正感到生气。
On June 18, 2002, South Korea played against Italy in the 1/8 final of the Korea-Japan World Cup. Judging from the paper strength of both sides, Italy, which has many superstars, is naturally far better than South Korea. But no one thought that such a seemingly one-sided match would become the most famous match-fixing event in World Cup history.
2002年6月18日,韩国在韩日世界杯1/8决赛中与意大利对战。从双方的纸面实力来看,拥有许多超级巨星的意大利自然要比韩国好得多。但是没有人认为如此看似单面的比赛将成为世界杯历史上最著名的假球比赛。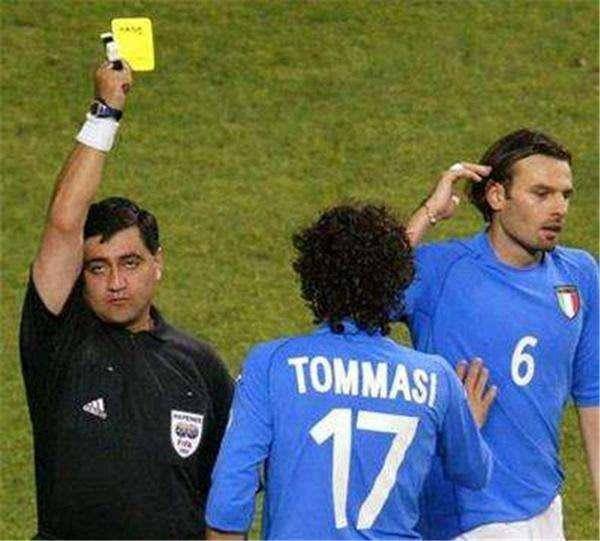 Byron Moreno, this unsmiling little man became the subject of criticism from all Italians after the game. During the game, Byron Moreno not only turned a blind eye to the South Korean team's fierce foul, but also gave the host a highly controversial penalty, and then sent off the blue shirt in overtime in the name of an unnecessarily flop. Totti, the core of the Legion, then ruled that Tomasi's anti-offside goal was invalid. With Byron Moreno's "diligence", the host South Korea was able to "difficultly defeat" Italy and advance to the quarterfinals of the World Cup.
拜伦·莫雷诺(Byron Moreno),这个不苟言笑的小矮人在赛后成为了所有意大利人的批评对象。比赛中,拜伦·莫雷诺(Byron Moreno)不仅对韩国队的猛烈犯规视而不见,而且还对东道主施加了极具争议性的罚款,然后以不必要的失败之名加班送下了蓝衬衫。军团的核心托蒂随后裁定,托马西的反越位目标无效。在拜伦·莫雷诺(Byron Moreno)的"勤奋"下,东道国韩国能够"艰难地击败"意大利,晋级世界杯四分之一决赛。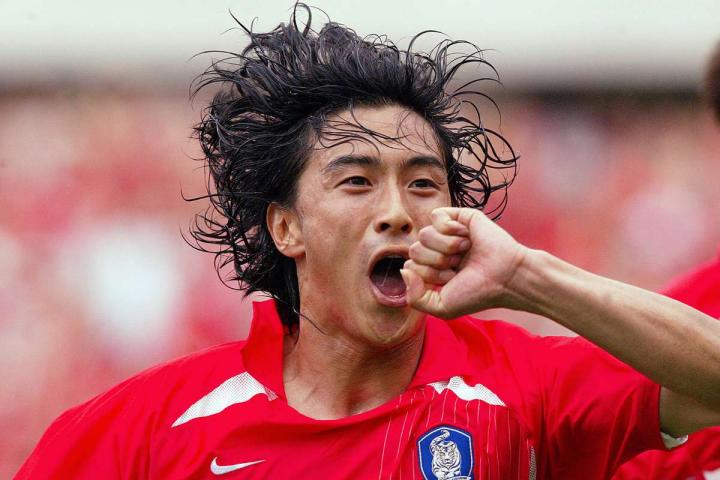 An Jung Hwan
安贞焕
After the game, all Italians pointed their fingers at referee Byron Moreno and the South Korean team he helped. Serie A Perugia club owner Gao Qi publicly stated: "I will not take in a player who ruined Italian football...I will not extend the contract with An Zhenhuan, he can return to Korea." (An Zhenhuan in 1/ A goal was scored in the 117th minute of the final of the 8th, which killed Italy.) Not only that, the subsequent Serie A has formed an unwritten rule: the introduction of Korean players is prohibited.
比赛结束后,所有意大利人将手指对准了裁判拜伦·莫雷诺(Byron Moreno)和他帮助的韩国队。意甲佩鲁贾俱乐部老板高琦公开表示:"我不会招募一名破坏了意大利足球的球员……我不会延长与安振焕的合同,他可以回到韩国。" (在1/8进球的安贞焕在8决赛的第117分钟打进一球,这场比赛杀死了意大利。)不仅如此,随后的意甲也形成了一条不成文的规则:禁止引进朝鲜球员。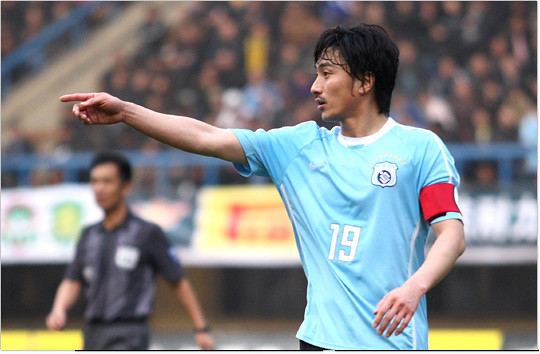 An Zhenhuan in the period of Dalian Shide
大连实德时期的安贞焕
After being expelled from Perugia, Ahn Jung-hwan played for Japan's Shimizu Mogul and Yokohama Mariners, France's Metz, Germany's Duisburg, South Korea's Suwon Samsung, and China's Dalian Shide. On January 31, 2012, An Zhenhuan held a press conference in Seoul and announced his official retirement.
在被佩鲁贾开除后,安贞焕先后效力于日本的清水大亨和横滨水手,法国的梅斯,德国的杜伊斯堡,韩国的水原三星和中国的大连实德。 2012年1月31日,安振焕在首尔举行了新闻发布会,并宣布他正式退休。
Regarding the expulsion of An Zhenhuan from Perugia, it is generally believed that An Zhenhuan "deserved the crime". However, the South Korean star also expressed his various discriminations in Serie A in previous interviews. An Jung-hwan said that Perugia captain Materazzi once said that he "thinks only at a child's level" and kicked in when the players were in the locker room and shouted "How can there be a smell of garlic."
关于从佩鲁贾驱逐安贞焕,普遍认为安贞焕"应得的罪行"。然而,这位韩国球星在此前的采访中也表达了他在意甲的各种歧视。郑焕说,佩鲁贾队长马特拉齐(Materazzi)曾经说过,他"只考虑孩子的水平",并在球员进入更衣室时踢了进来,大喊"大蒜味怎么会闻"。
In the early 1990s, Chelsea was in the dilemma of a sluggish record for a long time, and Wise became a key figure in the blues' revival. During the 11 seasons with Chelsea, Wise helped the team win the 1997 and 2000 England FA Cup, the 1998 European Super Cup, the European Cup Winners' Cup and the English League Cup. He was also named the England Footballer of the year for his outstanding performance in 1998.
在1990年代初期,切尔西长期处于低迷状态的窘境中,怀斯成为布鲁斯复兴的关键人物。在切尔西的11个赛季中,怀斯帮助球队赢得了1997年和2000年的英格兰足总杯,1998年的欧洲超级杯,欧洲优胜者杯和英格兰联赛杯。他还因其1998年的出色表现而被评为年度英格兰足球先生。
In addition to superb skills, another major feature of Wise is his strong mental attributes. Nicknamed "Angry Rat", his playing style is fierce, and often caused fierce conflicts because of some excessive movements.
除了高超的技能,Wise的另一个主要特点是他强大的心理素质。绰号"愤怒的老鼠",他的打法凶猛,由于动作过度经常引起激烈的冲突。
On July 20, 2002, Wise had a fierce quarrel with his teammate Garen Davidson during the Finnish preseason. An angry Wise slammed Garen Davidson on the nose and chin, causing the latter to fracture many parts of his face. Subsequently, Wise was ordered to leave the team and return home by the Leicester City Club, and was expelled on August 2.
2002年7月20日,在芬兰的季前赛期间,怀斯与队友加伦·戴维森(Garen Davidson)发生了激烈的争吵。愤怒的智者用鼻子和下巴猛击Garen Davidson,导致后者下巴的许多部位骨折。随后,怀斯被莱斯特城俱乐部勒令离开球队并返回家园,并于8月2日被开除。
Wise, who received the expulsion notice, did not give up. He contacted the English Professional Players Union to appeal the club's decision. Surprisingly, Wise's appeal was successful. The Football Association believes that Leicester City's handling of the players is too strict, demanding that the club recover their lives and give Wise two weeks of salary (about 70,000 pounds) compensation.
收到开除通知的怀斯没有放弃。他联系了英国职业球员联合会,对俱乐部的决定提出上诉。令人惊讶的是,怀斯的上诉获得了成功。足协认为莱斯特城对球员的处理过于严格,要求俱乐部恢复生命并给怀斯两周的薪水(约7万英镑)。
Soon after, the Leicester City Club appealed against the FA's decision. On September 18, the English Football League Disciplinary Committee ruled that Leicester City won the case and the club could maintain the penalty for Wise.
此后不久,莱斯特城俱乐部就对英足总的决定提出上诉。 9月18日,英格兰足球联赛纪律委员会裁定莱斯特城胜诉,俱乐部可以维持对怀斯的处罚。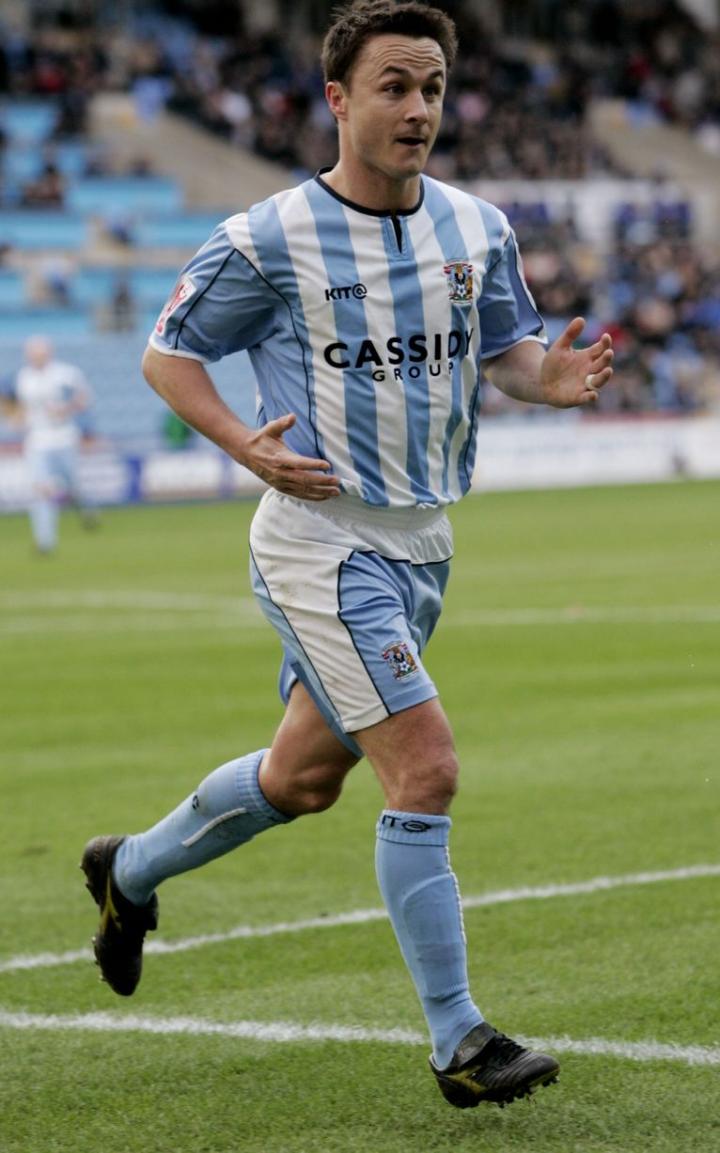 After leaving Leicester City, Wise has played for three teams, Mewhal, Southampton and Coventry. On May 9, 2006, after representing Coventry in 13 games, Wise officially announced his retirement.
离开莱斯特城后,怀斯曾效力于梅瓦尔,南安普敦和考文垂三支球队。 2006年5月9日,在代表考文垂参加13场比赛之后,怀斯正式宣布退役。
Once upon a time, people always think of Adrian Mutu when they talk about Romania. His ascent trajectory is as gorgeous as fireworks, making the whole of Europe look at it.
曾几何时,人们谈论罗马尼亚时总是想到阿德里安·穆图(Adrian Mutu)。他的上升轨迹像烟花一样绚烂,整个欧洲都在看它。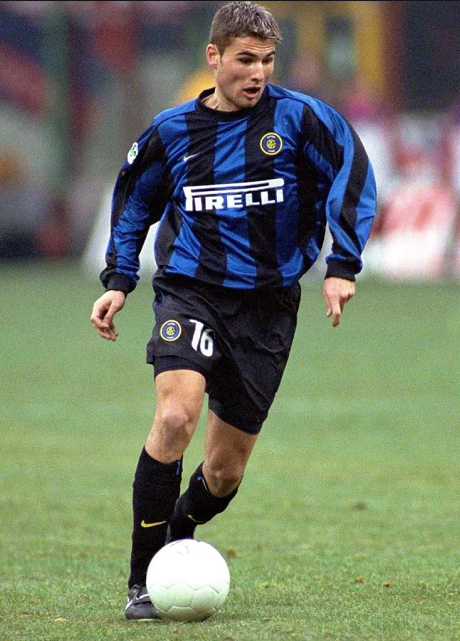 In 1999, Mutu joined Serie A giants Inter Milan with his outstanding performance in Bucharest Dynamo. In Inter Milan, it is difficult for Mutu to compete with Ronaldinho, Vieri and others. In order to seek more playing opportunities, Mutu has joined Verona and Parma.
1999年,穆图以在布加勒斯特迪纳摩的出色表现加盟意甲豪门国际米兰。在国际米兰,穆图很难与小罗,维埃里等人竞争。为了寻求更多的比赛机会,穆图加入了维罗纳和帕尔马。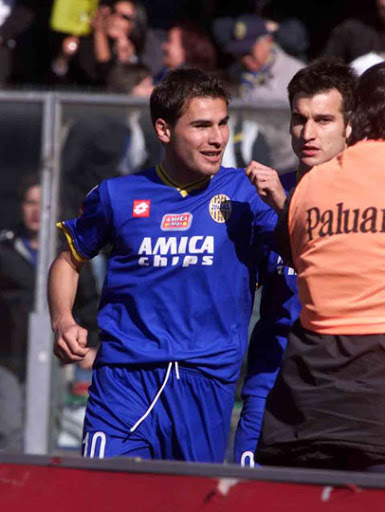 In the relegation team Verona, Mutu has become the absolute main force of the team. In his first season with Verona, he played 25 times and scored 4 goals, helping the team difficult to complete relegation. Verona took a fancy to Mutu's high quality and low price, and spent 4 million euros to officially buy it out. In the second season, Mutu's offensive stats have been further improved. He represented Verona in 32 league appearances and scored 12 goals, becoming the team's top scorer. However, when Verona's defensive performance was too bad this season, Mutu did his best to change the fate of the team's relegation.
在保级球队维罗纳,穆图已经成为球队的绝对主力军。在维罗纳的第一个赛季中,他出场25次并攻入4球,帮助球队难以完成降级。维罗纳(Verona)看中了Mutu的高品质和低价格,并斥资400万欧元将其正式购买。在第二个赛季,穆图的进攻数据得到了进一步的提高。他代表维罗纳参加了32次联赛出场,攻入12球,成为球队的最佳射手。但是,当维罗纳本赛季的防守表现太差时,穆图尽了最大的努力来改变球队降级的命运。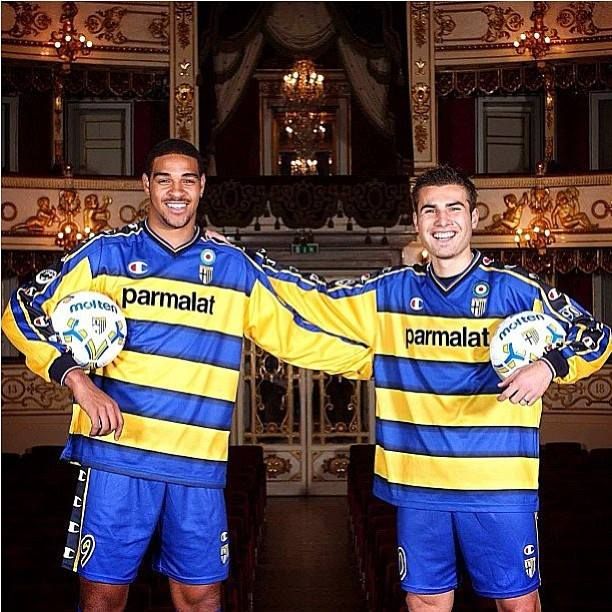 After Verona was relegated, Mutu joined Parma, which had not yet sunk. In the 2002~2003 season, Mutu and Adriano formed the double striker Megatron Apennin. The two of them scored 33 goals in the league. Among them, Mutu scored 18 goals and won the Serie A silver boots. If we move our attention to the bottom of the scorer list, we can see Inzaghi (17 goals in the season), Piero (16 goals in the season), Totti (14 goals in the season) and many other great names.
维罗纳(Verona)降级后,穆图(Mutu)加入了尚未沉没的帕尔马(Parma)。在2002〜2003赛季,穆图和阿德里亚诺组成了双重前锋威震天·亚平宁。他们两个在联赛中攻入33球。其中,穆图打进18球,赢得了意甲银靴。如果我们将注意力转移到得分手名单的底部,我们可以看到因扎吉(本赛季17个进球),皮耶罗(本赛季16个进球),托蒂(本赛季14个进球)和许多其他著名人物。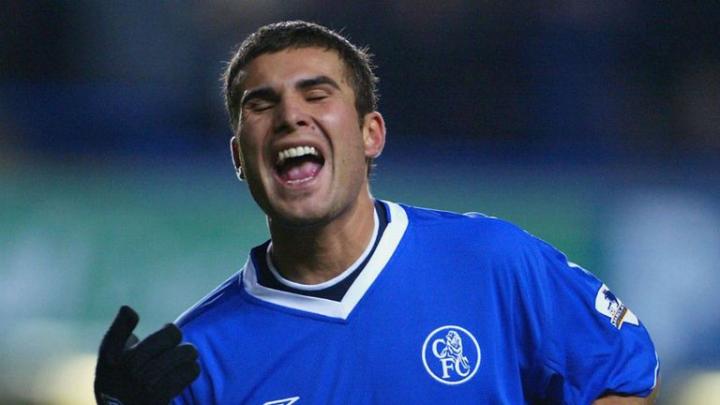 In August 2003, Mutu joined Chelsea with a transfer fee of £15.8 million. As a major signing after Abramovich entered the Blues, the club's senior officials hope he can carry the offensive line and break the monopoly of Manchester United and Arsenal for the Premier League championship. Who would have thought that Mutu did not bring cheers and laughter to Chelsea fans, but added a black spot that could never be erased in his career.
2003年8月,穆图以1580万英镑的转会费加盟切尔西。作为阿布拉莫维奇进入蓝军之后的重要签约,俱乐部的高级官员希望他能坚持进攻路线,打破曼联和阿森纳对英超联赛的垄断。谁会想到Mutu并没有给切尔西的球迷带来欢呼和欢笑,而是增加了一个黑点,这在他的职业生涯中是无法消除的。
On October 18, 2004, Mutu was found to have taken cocaine illegally during a drug test organized by the FA. However, the Romanian at that time had not fully realized the seriousness of the matter. He once stated in public that Chelsea would not expel himself.
2004年10月18日,在FA进行的一次毒品测试中,Mutu被发现非法服用可卡因。但是,当时的罗马尼亚人尚未完全意识到问题的严重性。他曾经在公开场合表示切尔西不会将自己开除。
It turns out that Mutu was too naive on this matter. Abramovich, who is eager to establish the image of the club, and Mourinho, who has always been strict in ruling the army, will not give him a second chance. On October 29, British time, Chelsea officially issued a statement-expelling Mutu!
事实证明,穆图在这个问题上太天真了。渴望树立俱乐部形象的阿布拉莫维奇(Abramovich)和一直严格管理军队的穆里尼奥(Mourinho)不会给他第二次机会。在英国时间10月29日,切尔西正式发布了驱逐Mutu的声明!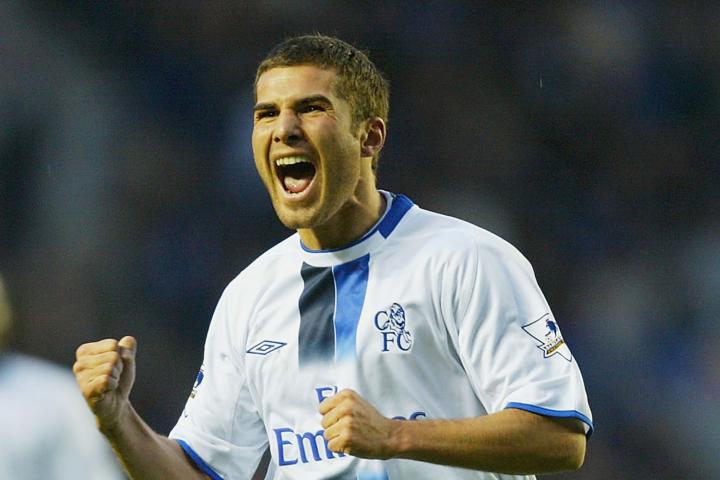 Mutu felt that his career was in darkness because of the scandal being swept out by the club. He said in an interview two days later: "Chelsea ruined me. I don't know what to do now. I am shocked and puzzled by their decision. I don't expect them to pay my salary during the suspension, but I never thought about it. They will fire me. Why can't they wait for the FA penalty decision before making a decision? My career is over!" The frustrated Mutu even thought of retiring: "I think I should leave football. , What is left for me now?"
穆图认为,由于丑闻被俱乐部清除,他的职业生涯陷入了黑暗。他在两天后的一次采访中说:"切尔西毁了我。我现在不知道该怎么办。他们的决定让我感到震惊和困惑。我不希望他们在停职期间支付我的薪水,但我从未想到了。他们会解雇我。为什么他们不能等FA罚则才决定呢?我的职业生涯结束了!沮丧的穆图甚至想到退休:"我认为我应该离开足球。,现在还剩下什么?"
Mutu's use of cocaine is indeed a serious violation of the FA regulations, but certain details of the Chelsea club's dealings have also caused extensive discussion. Premier League Players League Chairman Taylor said: "Chelsea's approach is out of order because Mutu didn't even attend the hearing! Chelsea just wanted to deal with Mutu as soon as possible because they didn't want this young man anymore, they didn't even think about it. In the future of the players...Chelsea should take on the responsibility of helping Mutu detox and recover."
穆图使用可卡因的确确实严重违反了足协的规定,但是切尔西俱乐部交易的某些细节也引起了广泛的讨论。英超联赛主席泰勒说:"切尔西的做法混乱,因为穆图甚至没有参加听证会!切尔西只是想尽快与Mutu打交道,因为他们不再想要这个年轻人,他们甚至都没有考虑过。在球员们的未来…亚博美女直播…切尔西应承担帮助Mutu排毒和康复的责任。"
What makes Taylor even more puzzled is that Chelsea executives repeatedly emphasized that the club firmly opposed the use of illegal drugs, but when the relevant anti-doping organization went to the club for drug testing, all Chelsea team members were on holiday. Taylor said: "Chelsea spends so much money on players, but have they ever thought that the club has not guided the players' lifestyle at all!"
泰勒更感到困惑的是,切尔西高管一再强调俱乐部会坚决反对使用非法毒品,但是当相关的反兴奋剂组织前往俱乐部进行药物测试时,所有切尔西队成员都在放假。泰勒说:"切尔西在球员身上花了很多钱,但他们有没有想过俱乐部根本没有指导球员的生活方式!"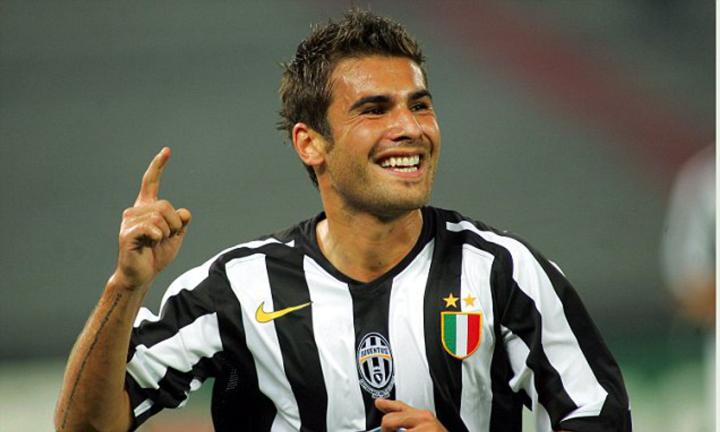 At Juventus, Mutu restarted his career
在尤文图斯,穆图重新开始了他的职业生涯
In the end, Mutu was banned by the FA for seven months (the ban was subsequently recognized by FIFA and the ban was extended to the world). Fortunately, Mutu was at the peak of his career, and the long suspension did not ruin his career. In January 2005, Mutu signed a contract with Serie A giants Juventus and officially joined the team. Since then, Mutu has played in Serie A for 7 seasons, and there is no lack of 22 goals in a single season.
最后,穆图被足总禁赛七个月(禁令随后被国际足联认可,并且禁令扩大到世界范围)。幸运的是,Mutu处于职业生涯的顶峰,长期的停职并没有破坏他的职业生涯。 2005年1月,穆图与意甲巨人尤文图斯签订了合同,并正式加入了球队。从那以后,穆图已经在意甲打了7个赛季,而且在一个赛季中也不乏22个进球。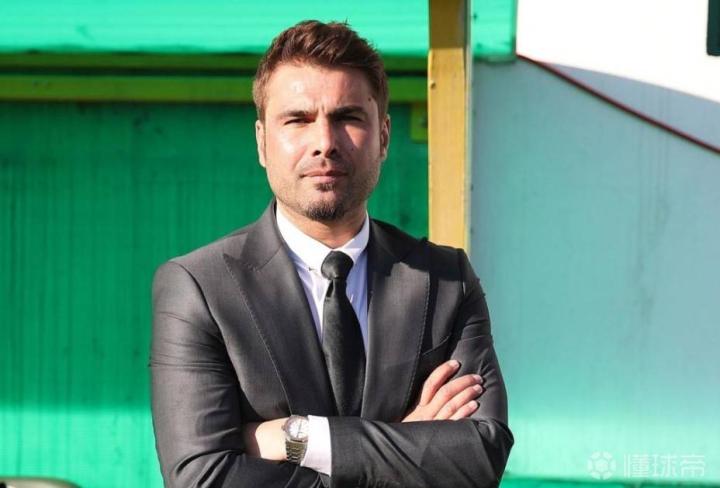 After announcing his retirement in 2016, Mutu served as the head coach of FC Voluntari and Al WahdaU21, and also served as the chairman of Dynamo Bucharest from 2017 to 2018. On January 9, 2020, the Romanian Football Association officially announced that Mutu will serve as the head coach of the Romanian U21 national team.
穆图在2016年宣布退休后,曾担任FC Voluntari和Al WahdaU21的主教练,并于2017年至2018年担任布加勒斯特迪纳摩主席。2020年1月9日,罗马尼亚足球协会正式宣布穆图将任职担任罗马尼亚U21国家队主教练。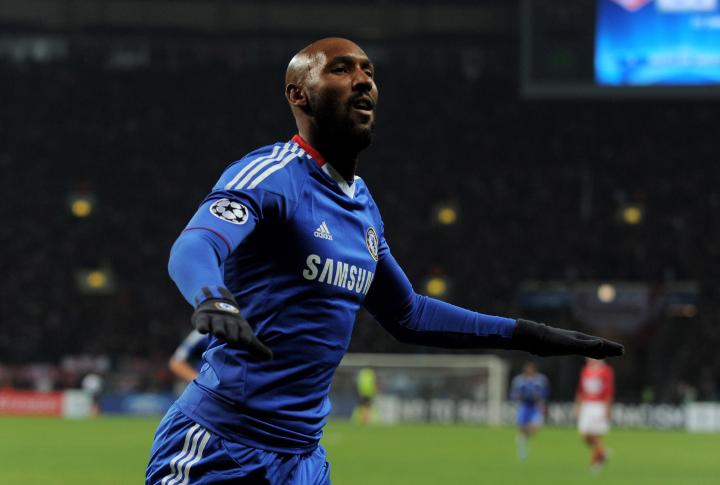 Among the players who have been dismissed, I'm afraid it's more
在被解雇的球员中,恐怕还有更多
At the end of his career, Anelka played for Shanghai Shenhua, West Brom, Mumbai City and other teams. While playing for West Brom, the famous football player who watched all the storms also suffered expulsion.
在职业生涯的最后,阿内尔卡效力于上海申花,西布朗,孟买市和其他球队。在为西布朗(West Brom)效力时,看着所有暴风雨的著名足球运动员也被驱逐出境。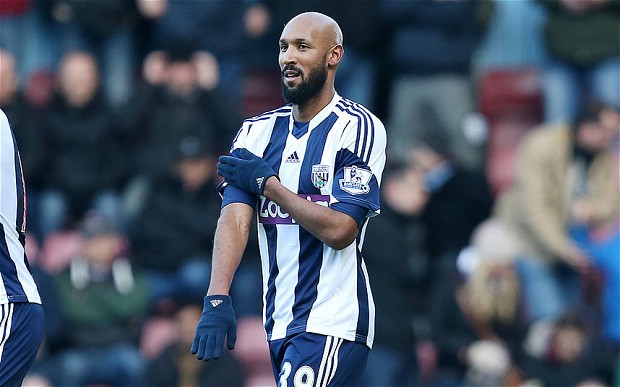 In the Premier League held on December 28, 2013, Anelka scored two goals to help West Brom draw with West Ham in 3:3. After scoring the first goal, Anelka straightened his right arm and placed the palm of his left hand on his right arm. In Europe, this gesture is considered to have a clear "anti-Semitic" meaning.
在2013年12月28日举行的英超联赛中,阿内尔卡打进了两个进球,帮助西布朗队在3:3战胜西汉姆队。攻入第一个进球后,阿内尔卡(Anelka)伸直右臂,将左手掌放在右臂上。在欧洲,此手势被认为具有明确的"反犹太"含义。
The referee did not comment on Anelka's actions at the time, but the FA and anti-racism organizations immediately launched an investigation into Anelka's actions after the game. On February 27, 2014, the Football Association made a final penalty for Anelka's controversial celebration-a five-game suspension, a fine of 80,000 pounds, and an order to complete relevant education courses.
裁判员当时未对阿内尔卡的行为发表评论,但足总和反种族组织立即对阿内尔卡的行为展开了调查。 2014年2月27日,足协对有争议的阿内尔卡(Anelka)庆典进行了最后罚款,其中包括停赛5场,罚款80,000英镑和完成相关教育课程的命令。
People thought that this incident would come to an end, but they did not expect Anelka to suddenly release a statement on March 15, 2014, announcing that he had terminated the contract with West Brom. Anelka wrote on social media: "I have decided to make myself a free agent again, and I will end my contract with West Brom. After negotiations with the club, the club has offered me some serious I cannot accept the conditions of returning to the team. In order to defend my integrity, I decided to end the contract immediately."
人们以为这一事件将结束,但他们并不期望阿内尔卡(Anelka)会在2014年3月15日突然发表声明,宣布他已经终止了与西布朗(West Brom)的合同。阿内尔卡在社交媒体上写道:"我决定再次让自己成为自由球员,我将终止与西布朗的合同。在与俱乐部谈判之后,俱乐部为我提供了一些严肃的条件,我无法接受重返俱乐部的条件。为了维护我的正直,我决定立即终止合同。"
Judging from the reaction of West Brom Club, Anelka did not inform the team of his choice in advance. Soon after, the furious West Brom also made an official response: "The club believes that Anelka's actions in the game on December 28th and on the social networking site just now are serious misconduct. As a result, West Brom decided to inform Ane. Elka will be terminated within 14 days." In this way, Anelka was fired by West Brom.
从西布朗俱乐部的反应来看,阿内尔卡没有事先告知球队自己的选择。不久之后,愤怒的西布朗(West Brom)也做出了官方回应:"俱乐部认为,阿内尔卡(Anelka)在12月28日的比赛以及目前在社交网站上的行为都是严重的不当行为。因此,西布朗(West Brom)决定通知阿内·埃尔卡(Ane。Elka)将在14亚博美女直播天内终止。"这样,阿内尔卡被西布罗姆解雇了。
After leaving the Premier League, Anelka did not manage to redeem his reputation through his performance on the court. When he joined Nero Brasil, he delayed the report for various reasons. The unbearable Atletico Mineiro finally decided not to sign with Anelka, not only that, they even considered sue the French star to FIFA.
离开英超联赛后,阿内尔卡(Anelka)无法通过在场上的表现来挽回声誉。当他加入Nero Brasil时,他出于各种原因推迟了报告。难以忍受的马蒂内罗最终决定不与阿内尔卡签约,不仅如此,他们甚至考虑起诉这位法国球星到国际足联。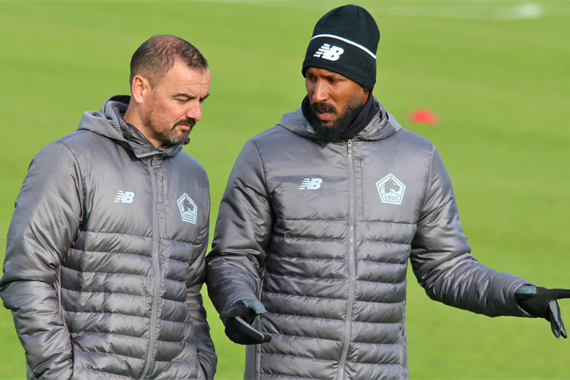 The current Anelka is working for the Lille coaching staff, his main job is to help the team train young forwards.
目前的阿内尔卡(Anelka)正在为里尔(Lille)教练组工作,他的主要工作是帮助球队训练年轻前锋。
As early as the age of 17, Adam Johnson represented Middlesbrough in the UEFA Cup. As the representative player of the Fort Mi Castle, Adam Johnson has a sharp breakthrough and exquisite footwork. Mancini was compared with the legendary Welsh star Giggs.
早在17岁时,亚当·约翰逊(Adam Johnson)就代表米德尔斯堡参加了欧洲联盟杯。作为Fort Mi Castle的代表球员,亚当·约翰逊(Adam Johnson)取得了重大突破,而且步法精致。曼奇尼与传奇的威尔士巨星吉格斯进行了比较。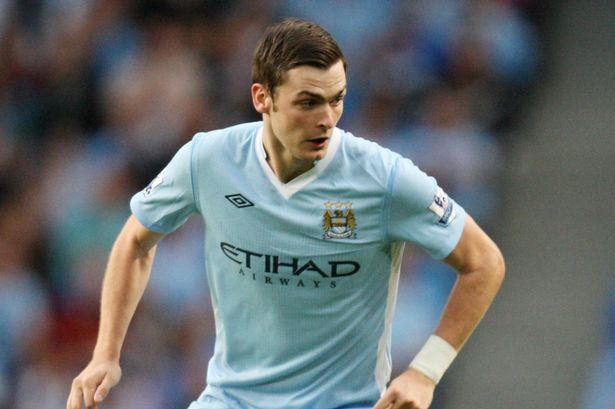 Adam Johnson has played for Middlesbrough, Leeds United, Watford, Manchester City and Sunderland in his career.
亚当·约翰逊(Adam Johnson)在职业生涯中曾为米德尔斯堡,利兹联,沃特福德,曼城和桑德兰效力。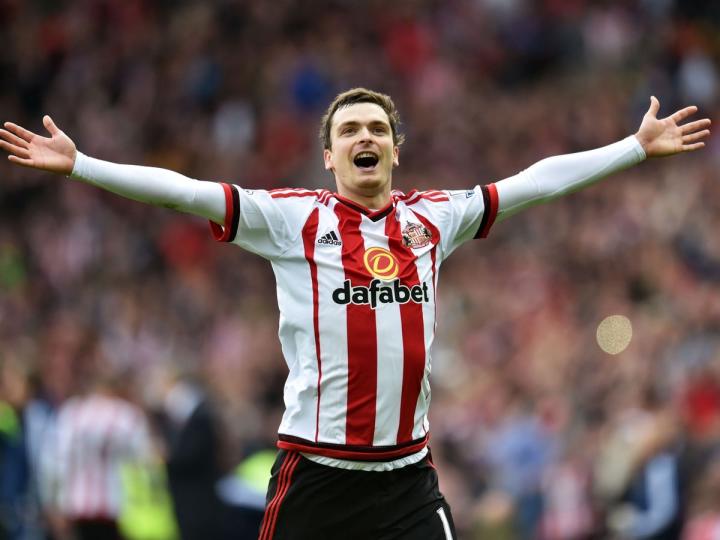 On August 24, 2012, Adam Johnson joined his hometown team Sunderland with a transfer fee of 10 million pounds, and the two sides signed a 4-year contract. For Sunderland, a small business, it seems very lucky to be able to buy an England international like Adam Johnson. Sunderland coach Martin O'Neal said: "Adam Johnson meets the team's requirements for high-quality players... He is extremely capable and I can guarantee that he will inspire the enthusiasm of the fans."
2012年8月24日,亚当·约翰逊(Adam Johnson)以1000万英镑的转会费加入了他的家乡球队桑德兰(Sunderland),双方签署了为期4年的合同。对于一家小型企业桑德兰来说,能够买到像亚当·约翰逊这样的英格兰国脚似乎很幸运。桑德兰教练马丁·奥尼尔说:"亚当·约翰逊满足了球队对高素质球员的要求……他非常有能力,我可以保证他会激发球迷们的热情。"
Facts have proved that Adam Johnson not only did not bring much enthusiasm to the fans, but because of an incident brought extremely bad effects to the club.
事实证明,亚当·约翰逊不仅没有给球迷带来很多热情,而且由于一起事件给俱乐部带来了极其恶劣的影响。
On March 2, 2015, Adam Johnson was charged by the English police for allegedly assaulting a girl under the age of 16. After the incident, Adam Johnson was arrested by the police at his home and was subsequently released on bail. Although Adam Johnson has already been charged with three counts at this time, the player himself has expressed firm denial of all the charges, so the Sunderland club also chose to continue to use Adam Johnson.
2015年3月2日,英国警方指控亚当·约翰逊(Adam Johnson)殴打一名16岁以下的女孩,事发后,亚当·约翰逊(Adam Johnson)在其家中被警察逮捕,随后被保释。尽管此时亚当·约翰逊已被指控三项罪名,但球员本人已坚决否认所有指控,因此桑德兰俱乐部也选择继续使用亚当·约翰逊。
On February 6, 2016, Adam Johnson completed the last match for Sunderland (2:2 draw with Liverpool). Four days later, he attended the trial for alleged assault on the girl and confessed to allegations of sexual relations with the girl. On February 10, Adam Johnson was sentenced to six years in prison by the court, and the Sunderland Club also issued an official statement to expel Adam Johnson.
2016年2月6日,亚当·约翰逊完成了桑德兰的最后一场比赛(与利物浦2:2抽签)。四天后,他因涉嫌殴打女孩而参加了审判,并承认与女孩发生性关系的指控。 2月10日,亚当·约翰逊(Adam Johnson)被法院判处六年徒刑,桑德兰俱乐部(Sunderland Club)也发布正式声明,将亚当·约翰逊(Adam Johnson)开除。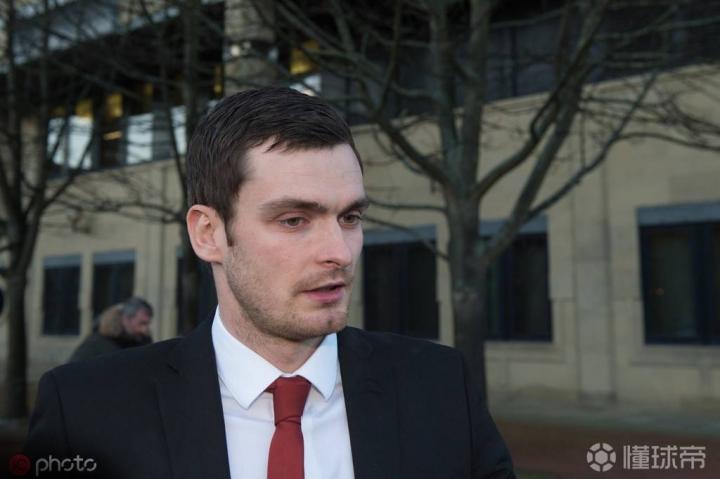 On March 22, 2019, Adam Johnson was released from jail three years early, but judging from the current situation, no British club would be willing to open its doors to him. At the same time, due to Adam Johnson's relatively bad criminal record, it is also difficult for him to obtain the visa needed to travel abroad.
2019年3月22日,亚当·约翰逊(Adam Johnson)提前三年被释放出狱,但从目前情况来看,没有英国俱乐部愿意向他敞开大门。同时,由于亚当·约翰逊的犯罪记录相对较差,他也很难获得出国旅行所需的签证。
Some people believe that expulsion means the end of career. This statement is not accurate. For those players who have committed bad mistakes, expelling does mean the end of their careers. But for the vast majority of players who have been expelled, the expulsion experience will become their valuable asset and will serve as a warning in their future careers.
有人认为,开除意味着职业生涯的终结。这个说法是不正确的。对于那些犯了严重错误的球员,开除确实意味着他们职业生涯的终结。但是对于被驱逐出境的绝大多数球员来说,驱逐经历将成为他们宝贵的财富,并将在未来的职业生涯中发出警告。